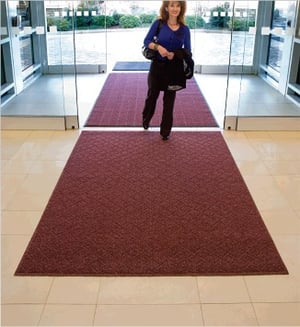 Your First Line of Defense Against Rising Floor Care Costs
According to a study conducted by the ISSA, if 1,000 people per day enter a building over a 20-day period where no matting is installed, they will track in about 24 pounds of soil. Per the study, it costs about $600 to remove one pound of soil, which amounts to a staggering $14,400 just in this 20-day time period.

With approximately 85% of all dirt in a building being tracked in by foot, dirt stopped by entrance matting is dirt that does not spread throughout a building meaning less dusting, mopping, vacuuming, and grout cleaning. Overall, removing soil from a mat can be less expensive than removing it from an entire building as the soil is concentrated in a localized area.
Benefits of Preventive Floor Matting Systems
Controls floor care costs by preventing soil, moisture, and other contaminants from entering and being tracked throughout the building. Concentrates cleaning to smaller matting areas rather than the entire building. ISSA states that entrance matting of at least six feet can remove 40 percent of soil, 12 feet can remove 80 percent of soil and 36 feet of matting can remove 99 percent of soil.

Safety protection from dangerous slips and falls.
Adds to the style, overall aesthetic, and image of your building.
Can be used to promote your brand by adding your logo and custom designs.
Enhances customer perceptions by showing your commitment to providing a safe, clean, and healthy building environment that limits exposure to contaminants.
Preventive matting is your building's first line of defense against dirt and moisture, a simple and effective way to cut down on tracking, and the best approach to protect floors from build up, scratching, and diminished floor finish.
How To Select a Preventive Matting System For Your Facility
Follow these tips and suggestions when selecting a preventive matting system for your building.
Mat Meets Door: Mats should always be placed directly next to the door, catching guests' last step before entering the facility and first step into the building. Space between the door and the mat can defeat the benefits of matting, which is primarily to remove moisture and soils from shoe bottoms, and could possibly lead to a slip/trip and fall accident.
Type of Mat: There are different types of mats – scrapers, wiper/scrapers, and wipers – as well as mats made for specific purposes and even for specific industries.

Mat 1 – coarse scraper mats should be placed outside of entryways to capture larger dirt particles and moisture before they can enter your facility.
Mat 2 - wiper/scraper mats are placed directly inside the entryway to stop any debris missed by the outdoor scraper mats.
Mat 3 - interior wiper mats are placed right after the wiper/scraper mats as a final line of defense to remove any remaining dirt and moisture.
See our Quick Ship Matting Guide for more matting types and their specific use within your facility.
Weight of Mat: Some mats, typically rental mats, are very light and easily roll up, lose their placement, or lose their absorbency, limiting how much moisture and soil they can hold. A heavier mat, typically a purchased mat, will likely hold its position, remain flat, and will have greater absorbency.
Longer is Better: Remember the "Rule of 15s," which dictates that at least 15 feet of matting should be installed at all entry doors – five feet each of coarse scraper, wiper/scraper, and wiper mats.
The American Institute of Architects reports that five feet of matting will capture 33% of walked-in debris; ten feet will capture 52%; and 20 to 25 feet can capture as much as 100% of soil on a person's shoe bottoms, preventing the soil from entering the facility. As an added bonus, with a three-mat system you can easily achieve the 10-feet minimum coverage to earn one point toward LEED v4 and improve indoor air quality (IAQ).
Watch the below short video to see how a three-mat system maximizes soil and moisture capture to ensure safety, prevents tracking of winter elements, and reduces overall floor cleaning costs.
Cleaning and Maintaining Your Matting Investment
Cleaning Mats:
Mats should be vacuumed regularly and should be cleaned using the carpet extraction method on a regular basis; this helps ensure they remain effective by capturing soils. Considering using a canister vacuum or backpack vacuum as they offer direct suction. Upright vacuums are also good, but the brush in upright vacuums may stir up dust polluting indoor air quality (IAQ) or pull at lighter weight carpets.
Seasonal soils, such as ice melt, rock salt, and sand, must be properly vacuumed from matting so these contaminants do not ruin the mats or surrounding flooring.
Clean mats with little or no soap. During the winter months, use an ice melt residue remover to remove unsightly white powdery marks.
Mats in high traffic areas may become saturated with moisture and soil, which occupants will then track into the facility. Replace mats throughout the day as needed under very adverse weather conditions or use high velocity air movers.

Avoid installing the mats until thoroughly dry.

Storing Mats:
If the mats need to be stored, do not roll or fold them; this can damage or weaken the backing of the mat and cause curling. Instead, store them flat, one on top of another until needed.

Don't Forget Beyond The Mat:
A comprehensive winter floor care program that incorporates matting systems, as well as microfiber wet mops that hold onto dirt and soil better than traditional cotton mops, automatic scrubbers that clean-scrub-dry in one pass, and burnishers that restore shine are additional solutions to increase productivity, lower overall cleaning labor costs, and ensure flooring looks its best even during the harsh winter months.


Don't have the budget to purchase the matting and floor care equipment you need today to grow your business? Learn about our flexible, tax-deductible lease-financing plans and take advantage of all the benefits of matting and equipment ownership without the high upfront costs.


---
View our Quick-Ship Matting Guide for more matting options and contact us to
schedule an assessment to protect your flooring from the harshness of winter.


or
---