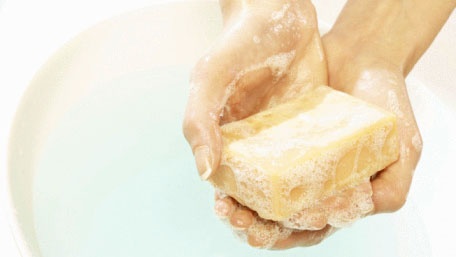 According to the Centers for Disease Control and Prevention, the single most important thing we can do to prevent getting sick, spreading illness, and reduce absenteeism is to wash our hands. All workplaces, schools, health care facilities, food service establishments, office buildings — every business everywhere should help educate staff and guests on when and how to properly wash their hands.
---
Proper Hand Hygiene is the Single Most Important Thing You Can Do For Your Health and the Health of Your Business
Regular hand washing, particularly before and after certain activities, is one of the best ways to remove germs, avoid getting sick, and prevent the spread of germs to others. It's a quick, simple "do-it-yourself" vaccine that can keep us all from getting sick.
By the numbers:
More than 80% of illnesses are transmitted by hands1
One hand can infect over half of the staff in an office by lunchtime2
Each absent employee costs more than $2,600 per year3
Proper hand care systems can reduce the spread of germs in an office by 74% and reduce absenteeism by 20-50%1
Numbers like these show the importance of proper hand hygiene and how promoting hand hygiene at your business can reduce absenteeism, directly impacting your bottom line. Many diseases and conditions are spread by not washing hands with soap and clean, running water. If soap and water are unavailable, use an alcohol-based hand sanitizer that contains at least 60% alcohol to clean hands. Teaching your staff and guests about hand washing helps them and your business community stay healthy and, according to the CDC, hand washing education at your business:
Reduces the number of people who get sick with diarrhea by 31%4, 5
Reduces respiratory illnesses, like colds, in the general population by 16-21%5, 6
A display of hand hygiene signage not only helps educate staff and guests about when and how to wash their hands, it also creates positive customer perceptions and proves that your business cares about general health and cleanliness. Promote proper and frequent hand hygiene by displaying signage in high traffic areas and wash areas to act as a visual reminder to staff and guests to wash and sanitize their hands. Be sure to support your signage by providing your staff and guests the necessary systems to easily wash and sanitize their hands throughout the day.
To help educate your community on proper hand hygiene, download our free industry-specific hand washing posters and place in restrooms, kitchens, and other appropriate areas to remind staff and guests on when and how to properly wash their hands.
When To Wash Your Hands
Before, during, and after work

Before and after eating food

Before and after caring for someone who is sick

Before and after treating a cut or wound

After touching high traffic areas (e.g. handrails, elevators, counters, door handles, time clocks, etc.)

After touching your nose, ears, eyes, or mouth

After using the restroom

After coughing, sneezing, or blowing your nose

After taking a work break

After handling money, trash, or soiled items

After handling animals, pets, or children
Also see when to wash your hands in food service, janitorial, and healthcare settings.
How To Properly Wash Your Hands
Wet: Wet hands with hot or cold water.
Wash: Apply soap. Lather and scrub back of hands, under nails, and between fingers for 20 seconds.

Tip! Sing the "happy birthday" song twice.

Rinse: Rinse hands under hot or cold running water.
Dry: Dry hands using a clean towel or air-dry.
How To Use Hand Sanitizers
If soap and water are unavailable, use an alcohol-based hand sanitizer that contains at least 60% alcohol to clean hands. Hand sanitizers are not as effective at eliminating all types of germs, but using a 60% alcohol-based hand sanitizer can reduce the number of microbes on hands.
Apply an ample amount of hand sanitizer to the palm of one hand.

Rub hands together.

Rub the sanitizer over hands and fingers until hands are dry.




Create a healthy environment and reduce absenteeism at your business.
Download our free industry-specific hand washing posters and show your staff and guests that you care about their health.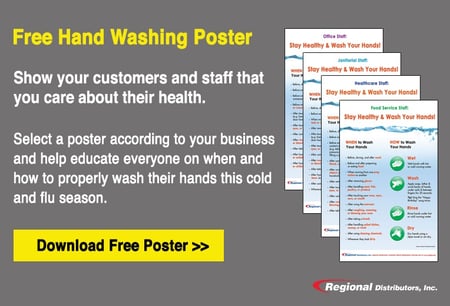 ---

1. National Center for Preparedness, Detection, and Control of Infectious Diseases (NCPDCID) and National Center for Zoonotic, Vector-Borne, and Enteric Diseases (NCZVED).; 2. Dr. Charles Gerba, University of Arizona, Germ Warfare in Your Facility Seminar, September 2014.; 3. CIRCADIAN's Shiftwork Practices 2005.; 4. Ejemot RI, Ehiri JE, Meremikwu MM, Critchley JA. Hand washing for preventing diarrhoea. Cochrane Database Syst Rev. 2008;1:CD004265.; 5. Aiello AE, Coulborn RM, Perez V, Larson EL. Effect of hand hygiene on infectious disease risk in the community setting: a meta-analysis. Am J Public Health. 2008;98(8):1372-81.; 6. Rabie T and Curtis V. Handwashing and risk of respiratory infections: a quantitative systematic review. Trop Med Int Health. 2006 Mar;11(3):258-67.