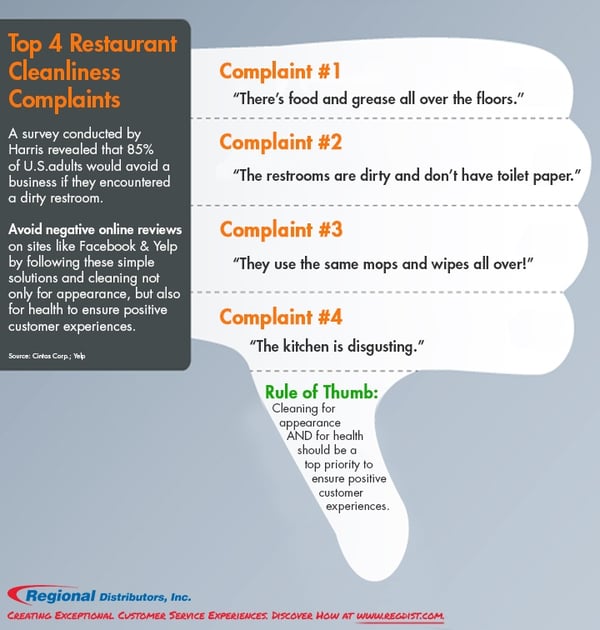 Unlike Good Reviews, Bad Customer Reviews Spread Quickly and Can Negatively Impact Your Business
A study conducted by Harris Poll revealed that 93 percent of U.S. adults would not return to an establishment if they experienced some type of issue related to the facility, with cleanliness issues including bad odor (78 percent) and dirty restrooms (66 percent) being the top two reasons1. With 88% of consumers trusting online reviews as much as personal recommendations2, and 90% of consumers reading online reviews before visiting a business2, reviews regarding cleanliness directly impact the success of your business.
Avoid negative online customer reviews on sites like Facebook and Yelp by following these simple solutions and cleaning not only for appearance, but also for health to ensure positive customer experiences.

Top 4 Complaints from Restaurant Guests and How to Avoid Them
Thousands of stories and experiences are being shared every minute online, especially during and after a dining or shopping experience, on sites like Facebook, Twitter, and Yelp. Unlike good reviews though, bad reviews spread quickly and can negatively impact your business.
A survey conducted on Yelp shows that 86 percent of people say that would hesitate to purchase from a business that has negative online reviews2. Furthermore, a similar survey conducted by Harris Poll and Yelp identifying the top four cleaning related complaints that keep customers away found that 85 percent of U.S. adults would not return to a business if they experienced a dirty restroom3.
Avoid negative online customer reviews by getting ahead of the following complaints and implementing simple cleaning solutions that not only focus on appearance and health to ensure positive customer experiences.


Online Complaint #1: "There's food and grease all over the floors."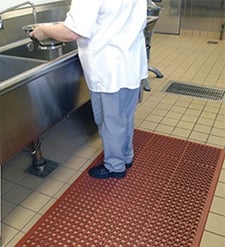 Floors are one of the first things customers notice when entering your business. From food and grease to stains and scuffs, a dirty floor leads to a negative perception of your business and an unenjoyable experience for your customers.
Solution: Implement daily floor cleaning to prevent buildup on flooring and use a food service specific cleaner that quickly emulsifies and suspends greasy soils on floors for easy cleaning. Matting systems can also help protect and maintain floors, as well as reduce tracking grease to front-of-house areas to prevent slips and falls for staff and customers.
Online Complaint #2: "The restrooms smell and look dirty, and don't have any toilet paper."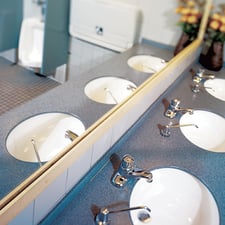 A survey conducted by Harris Poll and Yelp found that 85 percent of U.S. adults would not return to a business if they experienced a dirty restroom3. Even without numerous survey results to back up this statistic, many of us know first hand or from our friends and family that a dirty restroom is one of the main reasons we do not visit a business again, especially a restaurant. An image of a dirty, unkept restroom shows your customers that you do not care about their health or the health of your facility.

Solution: Implement a daily restroom care program and simple 3-point checklist that focuses on the following:
1) Empty trash receptacles and restock supplies including toilet tissue, hand soap, and hand towels. TIP: Display proper handwashing signs to further show customers that their health is important to you, as well as to prevent the spread of germs and reduce absenteeism.

2) Wipe down surfaces including counters, faucets, mirrors, and toilets. TIP: Take advantage of time-saving, multi-purpose products that eliminates the need for multiple cleaners. Also considering using microfiber cloths that cleans multiple surfaces - everything from counters and mirrors to stainless steel walls and doors - and holds onto dirt and bacteria better than cotton cloths.
3) Quick deep cleaning of floors to remove organic soils and odors. TIP: Organic soils like urine are hard to remove because they seep into porous materials like grout. Try a cordless mini autoscrubber like the that quickly cleans hard to reach restroom areas like a traditional mop, but provides a powerful, quick deep cleaning of porous materials to eliminate odors.


Online Complaint #3: "They use the same mops and wipes all over"
Using the same wipes, mops, and mop water all over can recontaminate and cross-contaminate your establishment by spreading dirt, germs, and bacteria from one area to another. Cross contamination can present a serious risk of an infection, illness, or virus, such as norovirus.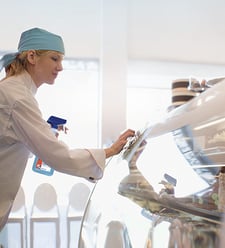 Solution: To prevent recontamination and cross contamination, regularly train staff on zone cleaning techniques and emphasize the risks involved with not changing cleaning tools and solutions in each area. Try creating zones or color coding based on high risk sanitation areas (e.g. restrooms), kitchen areas (e.g. wash sinks, floors), food prep areas, and general areas (e.g. waiting areas, front of house), and tools that separate clean water from dirty, contaminated rinse water, such as Filmop's Dual-Chamber Mop Bucket. Educate staff on the appropriate tools to use for each area and when to change tools according to each task.


Online Complaint #4: "The kitchen is disgusting."
A clean kitchen is imperative to a food service establishment's overall reputation, and especially online reputation. Anything less than a pristine, clean kitchen will create irreversible negative customer perceptions. Even if your business is busy, customers will not accept an unclean kitchen so be sure to implement efficient cleaning solutions that help make cleaning quick and easy.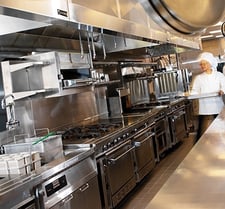 Solution: Keep cleaning products in an easily accessible, highly visible area to act as a visual reminder and encourage frequent cleaning. Consider utilizing chemical dispensing units that save time by eliminating the need for manual dilution and fast-rinsing pre-rinse spray nozzles that keep dishwashing areas tidy by preventing pots and pans from piling up. Also be sure to train your staff on the difference between cleaning and sanitizing. Cleaning removes food, dirt, and other types of soil from a surface. Sanitizing reduces the number of pathogens and microorganisms on that clean surface to safe levels. To be effective, cleaning and sanitizing must be a two-step process.

---
Avoid negative online reviews by using efficient cleaning solutions that make cleaning for health and appearance quick and easy.
---
1. http://www.businesswire.com/news/home/20160503005647/en/Study-Reveals-93-Percent-U.S.-Adults-Avoid
2. http://www.invespcro.com/blog/the-importance-of-online-customer-reviews-infographic/
3. http://www.cintas.com/facilityservices/press-releases/the-top-4-most-common-online-cleanliness-complaints/